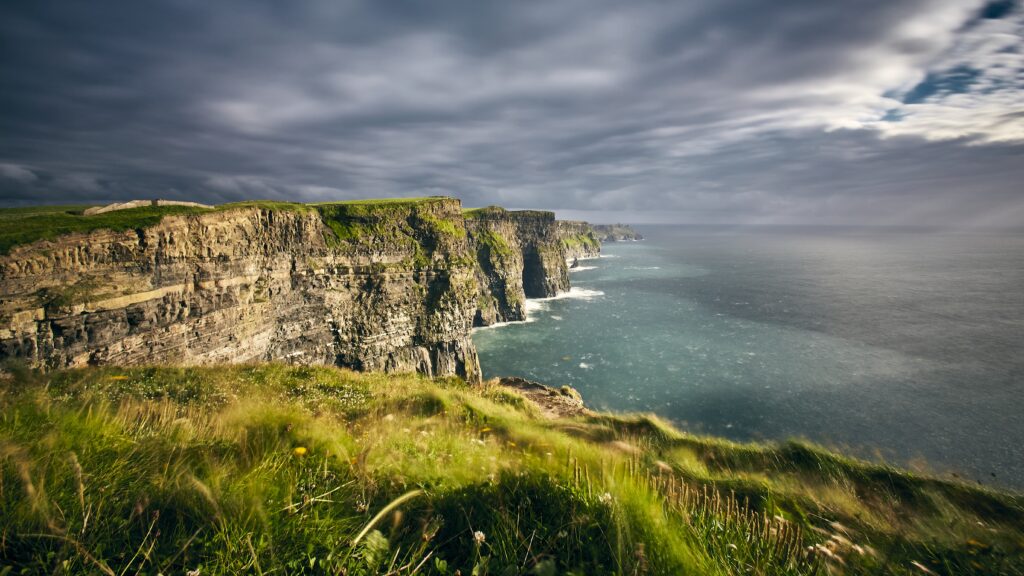 The trek from the Cliffs of Moher Visitor Experience to Hags Head is not difficult if you head south from the Cliffs of Moher Visitor Experience. The majority of the trail is relatively flat, and it will take 1.5-2 hours to complete the 5.6-kilometer trail.
Although the trail has just been repaired, the terrain gets rocky and uneven after 1km. The Coastal Walk is exposed to the elements, thus wind can make it more difficult. Clothing and footwear that are appropriate for the situation are essential. The view between the Cliffs of Moher Visitor Centre and Hags Head (Kilconnel) on the southern part is stunning and serene.
When you're on your excursion, take a moment to turn around and look back — the sights are spectacular! Since the cliffs are so high, their vertical edge creates a steep drop into the sea. It's the best of Ireland's wild, rough landscapes!
The adventure will come to an end when you reach a rural road with a stone wall and a gate.
The coastline trail is not suited for children or dogs, as we would like to remind you. When visitors ignore warning notices posted along the route, fatalities might occur.
Emergency services are difficult to come by, and trail victims must wait for assistance.
At the start of the coastal walk, new signage has been installed at the Cliffs of Moher Visitor Experience borders. We believe that by doing so, tourists will be more aware of the dangers of walking the trail, particularly near the cliff edge. Please guarantee your own safety by sticking within the official Cliffs of Moher Visitor Experience site. Thank you in advance for your cooperation.